Yesterday evening England beat Australia to cricket's Ashes once again. The epic five-match series, won by England with a game to spare, had turned many Twitter users into 140 character cricket commentators and statisticians.
Brands also got involved in the excitement. Investec, who are sponsoring the series, launched an @InvestecCricket Twitter account to talk about nothing but cricket, filling the timeline with reaction, stats, and pictures. Buxton, the official water supplier to the England Cricket Board, also got in on the act, using the #gotthebottle hashtag. They will be running a Twitter Q+A with victorious captain Alistair Cook.
Many of the England players have their own Twitter feeds, which they used to share their excitement at the victory. Jimmy Anderson tweeted the picture of the winning moment, which features him taking the match winning catch in the background:
The winning moment! What a day. @StuartBroad8 absolutely different class! pic.twitter.com/PYLBg4MpX1

— James Anderson (@JimmyAnderson9) August 12, 2013
New batsman Joe Root was somewhat less verbose, but no less enthusiastic, in showing his excitment:
Ashes baby! Woooooooow #5pmsomewhere

— Joe Root (@joeroot05) August 12, 2013
My personal favourite though comes from man of the match Stuart Broad, who, having taken 11 wickets in the match, tweeted this picture of him celebrating with teammates Jimmy Anderson, Tim Bresnan, and Matt Prior: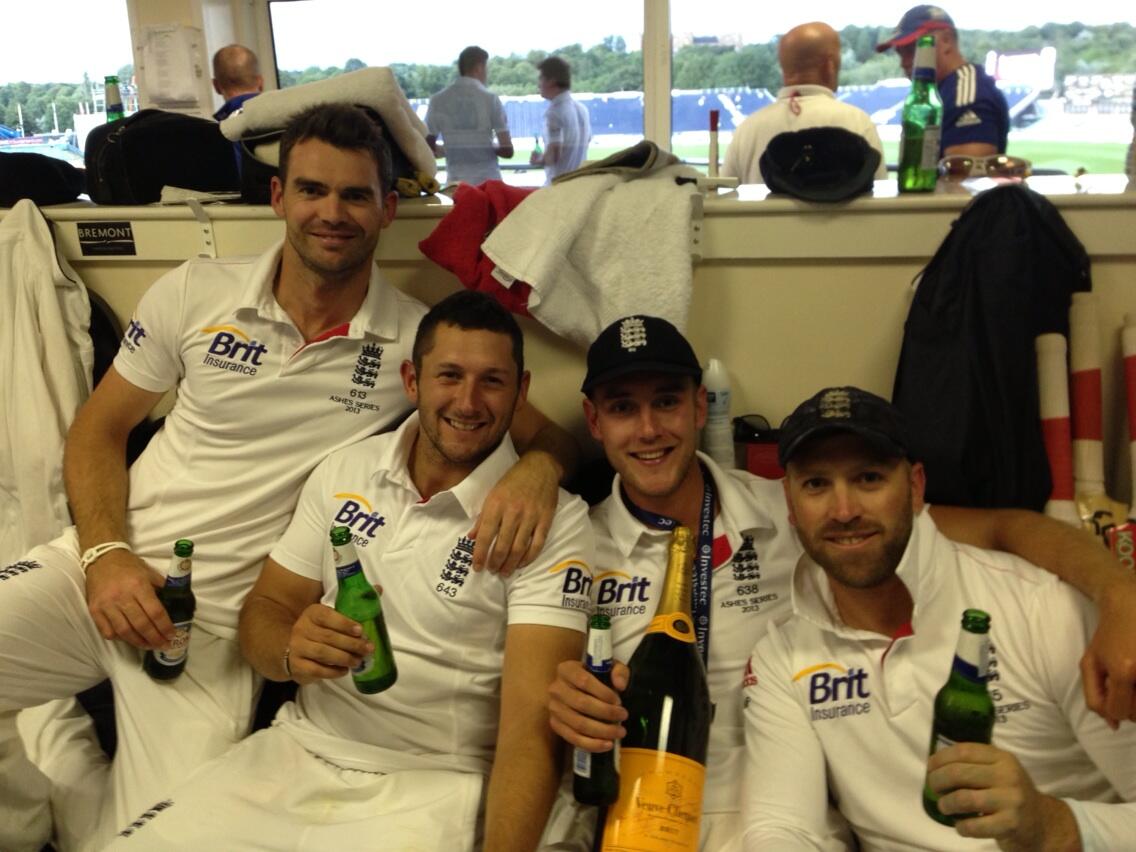 There was equal amounts of excitement on Facebook too. The England Cricket Board had produced visual content throughout the series to highlight key moments, and did so again when Ian Bell scored another century. The image was shared over 800 times, and liked over 6,000 times:
Even more social interactions came for a posting announcing the series clinching victory, with nearly 4,000 people sharing the post and accompanying image, and over 12,00 people liking it:
But what of the defeated Australians? Cricket Australia's Facebook page has decided to turn it's attention to the Women's Ashes, in which their team is proving to have more success. During the men's series they had also used Instagram to great effect, sharing behind the scenes pictures with their followers, and building the stream into their Facebook page. Cricket Australia had also used the clever #returntheurn hashtag on Twitter to rally their supporters.
With one more test match still to play, the women's series ongoing, and the return series in Australia starting in 100 days, there is a lot more social cricket to come!