Guardian stakes claim as world's third most popular newspaper website
We've been writing a lot about The Guardian recently on The Wall pondering whether it will eventually have to put up a paywall, looking at its grab for US traffic and wondering if it might be planning to ditch print for a digital future sooner rather than later.
Today, it has two pieces of research it is highlighting. The first, quoting the latest figures from digital analyst comScore, reveal that its website is the third most popular newspaper website in the world.
Considering the competition that is something of an achievement for, as editor Alan Rusbridger puts it, "a little newspaper from London".
The Guardian reached 30.4 million unique users in June 2012 putting it behind the Mail Online and the New York Times.
Obviously the Mail Online, and its wall of shame, now leads the New York Times in terms of traffic, but while the Mail Online is  making money its upmarket US rival has a paywall and 454,000 plus paying digital subscribers.
Secondly, the Guardian has released figures pointing to how its combined newspaper and print brand reaches more print and digital readers than its competitors, such as The Times and The Telegraph.
The Guardian says that independent research shows that, for the first time, the combined print and online British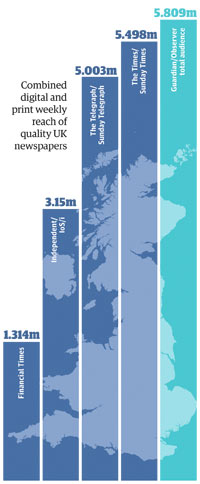 audience of the Guardian and the Observer is larger than that of any other quality newspaper brand.
The figures, you can see them in the bar chart opposite, show that it's audience is more than 300,000 more than the combined digital and print audience of its nearest competitor, The Times and The Sunday Times.
Of course, The Times has a paywall and you have to take those figures with a pinch of salt. I promise I won't bang on here about how The Times has the wrong kind of paywall, an anti social media paywall, as I have done that far too often, but seriously it is the wrong kind (get a blog, get a Tumblr, do something).
But that said it is a great claim for The Guardian to be able to make. It is one that says a lot about the reach of its brand. I think it is one that also underscores, oddly you might think, why it would be able to pull off a metered paywall.
The research, carried out by Kantar Media on behalf of Guardian News & Media, was carried out between July 2011 and June 2012 with a nationally representative sample of 7,000 British adults. The survey has been conducted twice a year since 2005 and gives the weekly unduplicated reach of all national newspapers (as well as the Metro and Evening Standard) and their websites (both fixed internet and mobile).