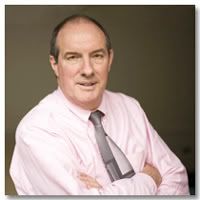 Jo, Iwein and I, plus 897 other people crammed in to the Wills Memorial Building at the University of Bristol last night for a Bristol Festival of Ideas lecture on The Shifting Global Economy by Will Hutton—or, as he put it, "How did we get in this mess and how are we going to get out?"
The audience sat in hushed silence as Will talked about the size of the hole we're in. The numbers are so large that they're almost beyond comprehension. For example, the British taxpayer has advanced or guaranteed £1.3 trillion to the UK banking system. The entire GDP of the UK is £1.6 trillion.
Apparently we'll get it all back, but Will (and the IMF) are not convinced. As much as £200 billion may have to be written off when all is done and dusted. That's more than double what we spend each year on the NHS!
What went wrong?
According to Will, the fundamental problem is that, ever since the UK's manufacturing base was destroyed and "the country's future sub-contracted to free market forces" in the 1980s, we forgot what real wealth creation is all about. Now that the smoke and mirrors of The City has been lifted, Will sees this moment as an opportunity for the UK to return to what "wealth generation" really means: innovation.
With all this debt to pay off as a country, we need to start earning some real money, and fast. I strongly agree with Will, but I was sitting there thinking, 'as a marketing person, am I as useless to UK plc as all the bankers..?' But then I thought about it, and actually I don't think we are. In fact, us marketers – especially those involved in new technology – should be a crucial part of the team that gets us out of this mess.
Of course, we need super-smart people in our universities and best companies to invent things, but if these new products are to succeed then they need branding and marketing support. There have been countless examples of great British inventions that have been exploited by foreign companies who've been more marketing savvy.
So if a slug of government cash could be used to bring together the best creative talent with the boffins then this could be money very well spent. And, given the state we're in, leaving it all to market forces may not be an option!